About FASSI crane

•Founded in 1955 as a family-owned private company is the world's top three boom-armed crane manufacturers.
• Annual revenue of more than 200 million euros, about 1,000 employees, 11 factories, more than 90% of products manufactured independently
• Annual production capacity of over 12,000 sets of cranes, headquartered in Albino, Italy
Techno Chips
Fassi fits its cranes with a series of innovative technology from the mechanical, hydraulic and electronic fields. To seamlessly connect this great resource, Fassi decided to combine the different features of its systems with "Techno Chips." Each chip corresponds to an icon that identifies identifies the set of technological features to which it is linked.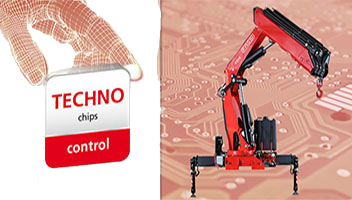 Fassi has developed the FSC "Fassi Stability Control" systems, available in different versions specifically designed for each type of crane, to best comply with Machine Directive 2006/42/EC and to apply the corresponding technical standard EN 12999:2011, which requires cranes which have a lifting capacity of at least 1000 kg or a lifting moment equal to and above 40000 Nm to be equipped with vehicle stability control in the safety function carried out by the lifting moment limiting device.